Gwyneth Paltrow Says She Feels 'More Comfortable' In A Bikini Now Than Ever Before
: Gwyneth Paltrow's guide to a happy, healthy life is a mantra anyone can get behind: "I believe, as cheesy as it sounds, in exercise, laughing, having sex, being yourself," the actress told
Women's Health magazine
.
The 42-year-old lifestyle website founder poses on the cover of the magazine's June issue in a bikini bottom and a cutoff T-shirt. "I feel way more comfortable in a bathing suit now than I did 20 years ago," Paltrow told the magazine.
The "Mortdecai" actress also explained her daily routine, which consists of a cup of coffee, an hour of dance cardio, a salad with grilled chicken for lunch and whatever she wants for dinner. But she also knows how to indulge when the time is right. While on an airplane with some turbulence recently, Paltrow decided to opt for some day drinking. "I was like, 'F--k this,'" she told the magazine, "I had a Bloody Mary in the middle of the day." Check out her cover photo below.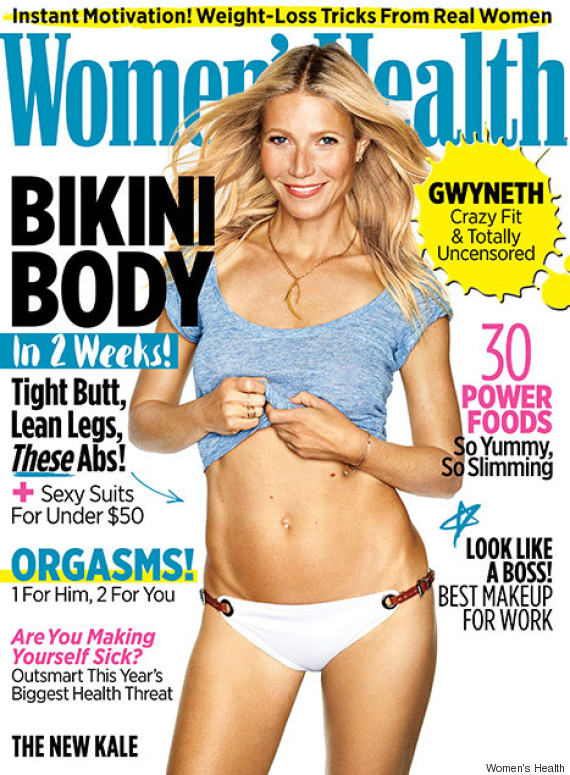 The June issue of Women's Health hits newsstands on May 26. For more, go to
WomensHealthMag.com
.
-- This feed and its contents are the property of The Huffington Post, and use is subject to our
terms.
It may be used for personal consumption, but may not be distributed on a website.
Original enclosures: