Model Jourdan Dunn breaks ranks and dares to criticise Victoria's Secret
: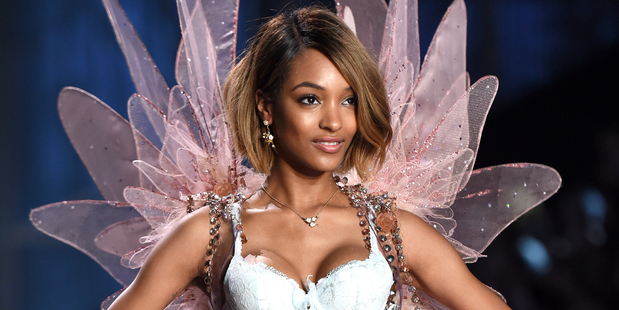 Jourdan Dunn on the Victoria's Secret catwalk in 2014. Photo / Getty Images
Amidst the usual inspirational quotes and backstage pouts, a model has spoken out on honestly social media - perhaps a rarity among the runway set.
Model Jourdan Dunn punctured the proverbial padding of Victoria's Secret's fashion show when she tweeted that the upcoming display is "BS" this week.
The tweet, which has now been deleted, read: "Feeling so much better about not doing BS ... sorry I mean VS now that Rihanna isn't doing it also". As well as reacting to Rihanna's cancelled performance, it was the first news that Dunn wouldn't be joining the likes of new blood, Kendall Jenner and Gigi Hadid next week either.
Dunn's declaration has stood out like a black bra under a white shirt against the barrage of hyped headlines that have come to prequel the show each year. And it seems 2015 has been particularly excessive in coverage.
Last week, the internet went gaga over the announcement that model, social media queen and reality TV star Gigi Hadid would be joining team VS.
Her successful audition video was posted online by the brand and Hadid's delighted response was described by one fashion site as "the most heartwarming thing you'll see all day."
Hadid's proclamation was quickly followed by her model bestie Kendall Jenner announcing she's joining the no-pants-party too: "The best birthday present EVER! always been one of my biggest dreams."
bday babe ??

A photo posted by Kendall Jenner (@kendalljenner) on Apr 26, 2015 at 8:52pm PDT
While fashion media has covered all manner of VS angles, from analysing the models to detailing how the angel wings are made, the industries acceptance of the show could be considered odd: Rhinestones and angel wings are not exactly synonymous with 'good taste'.
The show has thus far maintained its industry clout by using the world's most famous models - Gisele, Miranda Kerr, Rosie Huntington-Whiteley, and Dunn who first appeared in 2012 - in what are the most expensive fashion shows ever staged.
But the likes of the famous Pirelli Calendar embracing a flesh-centric, feminist theme this year featuring women such as Yoko Ono and Amy Schumer, may signal a tough new world for a brand that trades on women in their underpants.