Adele Craves Sex, Loves Alec Baldwin
:
Really, this is Adele's world. We just live in it.
The superstar dominated this weekend's Grammy Awards, taking home six trophies and returning from throat surgery to wow the crowd with a rendition of "Rolling in the Deep."
Now, Adele is looking beautiful on the cover of Vogue and reeling off one memorable soundbite after another. We've posted a number of them below...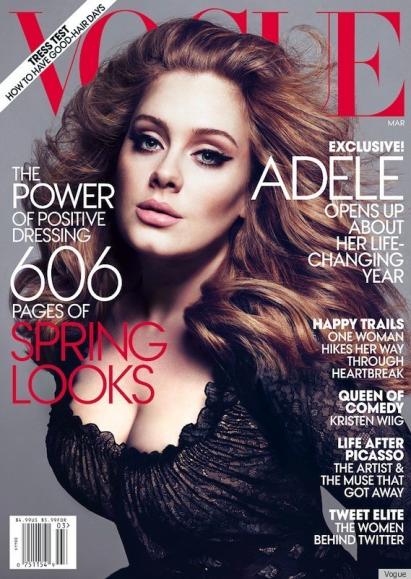 On performing: "I'm nervous whenever I perform. But seeing that it will be the first time opening my mouth again onstage in front of my peers? I'm shittin' myself. You can see the fear behind my eyes... The more records I sell and the bigger this all gets, the bigger the shows get. It's like a vicious cycle."
On faults as a girlfriend: "I love a bit of drama. That's a bad thing. I can flip really quickly. I am not bipolar, but I go from 'Oh, my God, I love you' to 'Get the fuck out of my house!' really quickly. And I never sit there and talk about it. I give them the silent treatment."
On pluses as a girlfriend: "I am attentive. I will do anything for my man. I am a good cook. I'm funny. Always want to have sex."
On her personality: "People think that I'm f-cking miserable. They are really surprised when they meet me that I'm chatty and bubbly and kind of quite carefree really. I'm the total opposite of my records."
On her celebrity crush: "I love Alec Baldwin. Oh, my God, I've got the biggest crush on him in that film. He's so sexy."
On Beyonce: "She's been a huge and constant part of my life as an artist since I was about 10 or 11. I love how all of her songs are about empowerment. Even when she's married and Jay-Z put a ring on it, she releases 'Single Ladies.' Go get yours. Go get what you deserve. I think she's really inspiring."